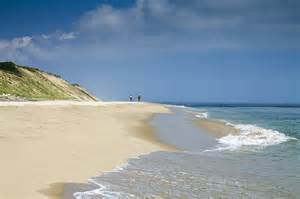 There are 15 towns on Cape Cod and each one has its own story. Some of them are well known – some not so much. Here are 15 fascinating facts – one for each town on the Cape – that might make you see this sandbar a little bit differently:
Barnstable: A Famed Writer's Failed Business
Before he wrote "Slaughterhouse 5" and "Cat's Cradle," Kurt Vonnegut opened the country's first Saab dealership in West Barnstable. Saab Cape Cod opened in 1957, but wasn't in operation for long. Back then, the Swedish vehicles required what was essentially an oil change every time they were gassed up, making them difficult to sell. The shop closed in 1961, but the slow business afforded Vonnegut plenty of time to write in the showroom. Word is, that's where he composed another acclaimed work, "The Sirens of Titan." The odd stone structure that once housed his failed dealership is still standing at the corner of Route 6A and Plum Road. (AP Photo)
Brewster: Breeding Grounds for Boatmen
During the 1800s, America's ship captain capital was Brewster. The town bred more ship captains per capita than any other American town during that century. Benjamin Baker, Elijah Cobb, William Burgess and the Nickerson family of captains, including Frederick, (above), all had roots in Brewster.
Bourne: The Story in the Stone
A 300-pound block of granite which once served as a doorstep at an Indian Meetinghouse has some inscriptions that researchers still cannot decipher. Now housed at the Bourne Historical Society, the stone and its script is the subject of many archeological debates. Some believe its script is ancient Iberian; others claim it was inscribed by Norse explorers like Leif Erikson. Either way, nobody can agree on just what kind of message the writing is meant to convey. It is a priceless artifact of pre-colonial American history; something Bourne residents probably don't even realize exists.
Chatham: Resting Place of Squanto
Tisquantum, a.k.a. Squanto, was the Native American who kept the Pilgrims alive while they navigated warring tribes and an incredibly harsh first winter in 1622. The legendary figure, who picked up English after he was taken against his will to Europe, acted as an interpreter for the settlers and the various tribes they traded with. He was with a trading group in Chatham when he fell gravely ill, and according to Governor Bradford's accounts, was buried somewhere in the area. Although nobody knows the exact location, areas of speculation include the Eastward Ho! golf course, Round Cove, a hilltop near the Nickerson family burial ground and Muddy Creek. (Sculpture of Squanto at the Pilgrim Hall Museum, in Plymouth, AP Photo)
Dennis: Brown Bragging
Many American towns have a claim to fame, and some bring more pride than others. But Dennis can say it invented the brown paper bag. At least, Dennis citizen Luther Crowell invented a machine in the 1800s which made them popular. While this may not seem like a major contribution, the humble brown bag is indeed a homey symbol of lunchtime across America. There is something to be said for this uncommon distinction – after all, who doesn't appreciate lunch?
Eastham's Ditched Witch
According to local legend, Mary "Goody" Hallet was kicked out of Eastham sometime in the late 1700s. She had fallen in love with the pirate Samuel Bellamy (captain of the Whydah), but he got her pregnant and ditched her. She ended up killing the infant and was exiled to Wellfleet. Legend has it, she sold her soul to the devil and when Sam returned to the Cape from his pirating, she conjured up the storm that sunk his ship. Mary was later chased by locals into the Cedar Swamp where she died.
Falmouth: America In Song
O beautiful for pilgrim feet/Whose stern, impassioned stress/A thoroughfare for freedom beat/Across the wilderness! Do those words ring any patriotic bells? They are one stanza of what became "America the Beautiful." The song was composed in 1893 by Katherine Lee Bates. Her words were not inspired by Falmouth, but by Pikes Peak in Colorado. Still, Falmouth has taken great pride in its claim to fame: Bates was born and raised in town.
Harwich: Home Of The Bitter Berry Industry
The town is considered the birthplace of the cranberry industry. The first commercial operation opened in 1846 and set the pace for the rest of the Cape's production. Many active bogs still exist there, and the town celebrates its yearly cranberry festival in September. (AP Photo)
Mashpee: People Of The First Light
Mashpee's Wampanoag tribe has inhabited the area for over 12,000 years and the name of the town is an anglicized version of mass nippe, or "great water" (in reference to Wakeby Lake). Through British plantation designation, European American religious conversion, and a long battle to become federally recognized, the tribe has persisted in upholding their culture through language programs and tribal celebrations, like the annual Pow Wow, (above)
Orleans: Under Fire During World War I
Nauset Beach in Orleans has the distinction of being the only site in the United States hit by foreign munitions during WWI. On the morning of July 21,1918, shots from a German U-boat were aimed at the town and nearby merchant vessels. The only ship that sunk was a tugboat. The rest of the shells landed in a marsh and along the beach.
Provincetown's Floating Houses
Long Point, the thin peninsula jutting out of Provincetown and curling slightly back toward Truro, was a thriving fishing village during the early 1800s. But in the 1850s, families decided to pack up and move back to the mainland portion of town – and took their houses with them. The structures were floated on casks over a mile of water. Some accounts say that some of the wives were so unperturbed by the action that they kept cleaning and organizing while their homes were afloat. Historians cannot quite agree on what prompted the move, but by the time of the Civil War, only two houses remained on Long Point, above.
Sandwich: Up And Down The Bunny Trail
The story of Peter Rabbit, or Peter Cottontail, was a popular recurring work that reshaped children's literature. It was written by Thornton W. Burgess, who grew up in Sandwich and later became a naturalist. Although Burgess moved to Western Massachusetts, he frequently returned to Sandwich, a place he considered his "spiritual home." It is believed he was inspired by the town's natural beauty and wildlife.
Truro in the White House
Two paintings by American artist Edward Hopper which depict Truro are hanging in the Oval Office. Hopper, considered one of the most important artists of the 20 th century, regularly summered in town with his wife. He produced many paintings featuring Outer Cape imagery, but his gorgeous "Cobb's Barns, South Truro," (above), and "Burly Cobb's House, South Truro" were put on loan to the president from the Whitney Museum of American Art in New York.
Wellfleet Is Bananas
In 1870, Captain Lorenzo Baker of Wellfleet brought a crew down to Venezuela for a mining project, where he sampled his first banana. Sensing a market, he brought a few ripe ones back in his cargo – but by the time he got home, they were spoiled. He went back to the tropics, picked some green bananas, and brought them to the Cape just ripe. For 10 more years, he set to work developing the Boston Fruit Company, the predecessor of United Fruit, which is still in existence.
Yarmouth: Gateway to the Cape?
Bass River is a scenic destination in South Yarmouth – but it was once the proposed location for the Cape Cod Canal, above. The waterway nearly cuts the Cape in two from Cape Cod Bay to Nantucket Sound, and old sailors in the late 1800s knew this. But Captain Bixby of the Army Corps of Engineers put the kabosh on the plan, claiming it was not worth spending federal money on building a canal there.