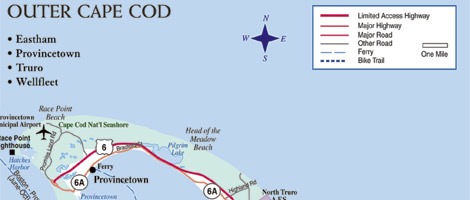 What is The Outer-Cape!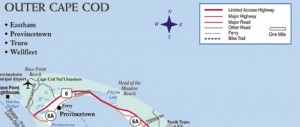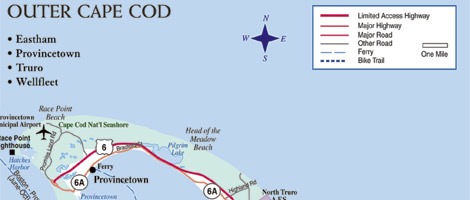 What is the Outer-Cape! From the Cape Cod National Seashore to the vibrant artist colony of Provincetown, the Outer Cape offers a diverse mix of activities and scenery for singles, couples, families and groups. Orleans, Eastham, Wellfleet, Truro and Provincetown all boast miles of biking and hiking trails; long, sandy beaches; acclaimed restaurants and historic sites.  Did you know that Truro, featured numerous times in Omni magazine, is allegedly a hotspot for UFO sightings?
The romantic, wild Outer Cape is farther from the typically removed from other more suburban parts of the Cape, with vast stretches of unspoiled beaches, many of which are inspiration for Wellfleet and Provincetown's artist colony, full of painters, photographers, musicians and actors. Enjoy the 1,000-acre Massachusetts Audubon Sanctuary's Wellfleet Bay Wildlife Sanctuary, go on a whale watch, or retrace Henry David Thoreau's footsteps if you choose. Orleans offers a nice balance of town and country; Eastham, Truro and Wellfleet are quite sedate and rural; Provincetown is lively and unique.
Often referred to as a seaside Greenwich Village, Provincetown is the best-known gay summer resort on the East Coast. With its whaling and fishing history, quaint inns and bustling Commercial Street, Provincetown enchants all who pass through. Its notable past and present residents include various artists, poet laureates, international journalists and playwrights.
Written by: The Cape Cod Chamber of Commerce October 21, 2013
– See more at: http://www.capecodtravelguide.com/Outer-Cape#sthash.g1LJarlK.dpuf