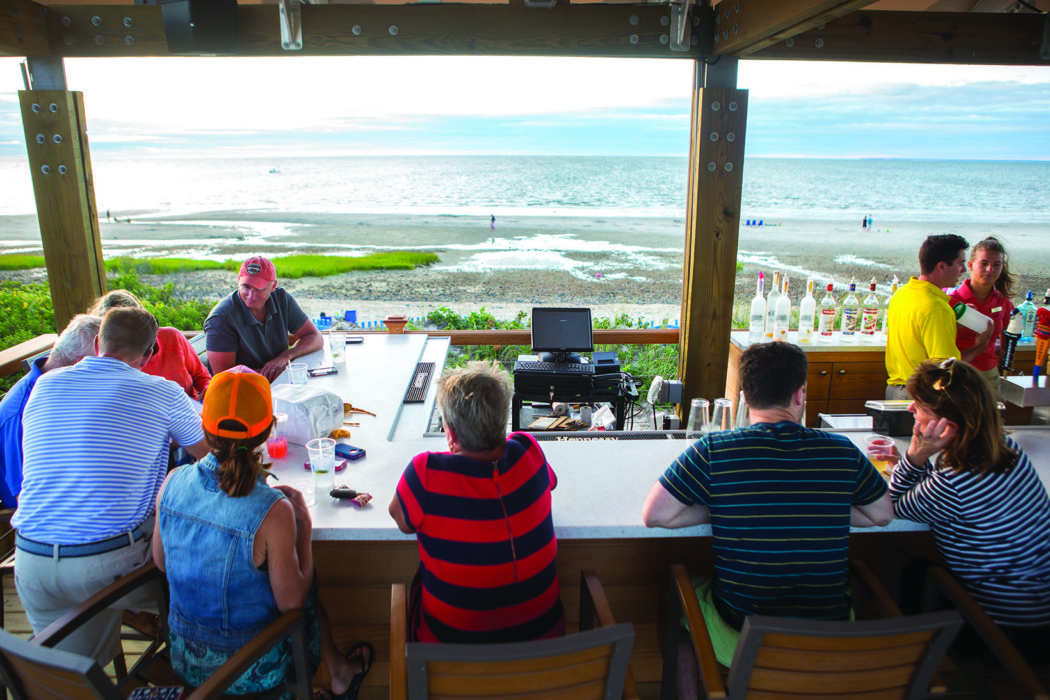 ---
It wasn't easy hitting all of Cape Cod's Best beach bars and doing "research" for this article, but somebody had to do it. We sought out the best we could find—and lived to tell about it. Some are classics, like the Wellfleet Beachcomber, and some are new, like the Sandbar at Jetties Beach on Nantucket. Each of them offers their own unique Cape Cod beach-casual experience. So whether you are in the mood for a Cape Cod cranberry mojito or lemon blueberry martini, kick back, relax and enjoy the view. Here's a toast to 13 beach bars on the Cape and Islands.
FUN IN THE SUN
The Beach Bar 
at Ocean Edge Resort, 
Brewster
The Beach Bar at Ocean Edge sits right on the dunes of Bay Pines Beach overlooking Cape Cod Bay, and offers resort guests beautiful beach views. Newly opened over Fourth of July weekend in 2016, bartenders serve regionally inspired craft cocktails, such as the Cape Cod Cranberry Mojito, On the Dunes Martini, and Terrace Sun-Setini.
Designed specifically to offer the maximum beach experience, resort guests can sit anywhere in this 32-seat bar on the dunes, watch the sunset and enjoy menu items like the lobster roll—"hands down, our best-selling menu item," says Ocean Edge's marketing director Elizabeth Stefan. Other mouth-watering delectable dishes feature the seared halibut fish tacos, Peruvian shrimp ceviche and a good old-fashioned cheeseburger.
Guests can either relax under the covered beach bar or bring their snacks and drinks down to the beach. "It's very family-oriented," says Stefan. "Parents can come up from the beach with their kids, grab a snack, go back to the beach, then come have a cocktail. Sandy toes are always welcome."
2907 Main St., Brewster, 508-896-9000
---
LIBATIONS ON THE BAY
The Outer Bar & Grille and LiBAYtion 
at Wequassett Resort & Golf Club, Harwich
With stunning ocean views, the Wequassett Resort & Golf Club is one of the Cape's finest destinations. The Outer Bar & Grille offers casual, upscale dining by the sea, with an outdoor deck overlooking the ocean—the true essence of a Cape Cod summer. Chef James Hackney's menu offers mouth-watering selections for every taste, with favorites such as the tuna poke, Pleasant Bay oysters and whole belly fried clams. For the landlubber, chef Hackney also serves up burgers, panini and pizzas. The Outer Bar & Grille is truly a classic for informal dining and socializing.
Just steps away from the Outer Bar & Grille is LiBAYtion, an outdoor, 20-seat bar situated under a stylish pavilion. Friends can gather for sunset with a refreshing signature cocktail such as a lemon blueberry martini, and order any selection from the Outer Bar & Grille menu. LiBAYtion features live entertainment most nights of the week. 
2173 Route 28, Harwich,  508-432-5400
---
A BELOVED CAPE ICON
The Wellfleet Beachcomber
Now in its 40th year and long recognized as one of the best beach bars in New England, the Beachcomber is in a class all of its own. "We're a family place by day and a nightclub by night," says Dan Murray, the Beachcomber's general manager of 27 years. Situated at the top of the sandy cliffs of Cahoon Hollow Beach, the original building, built in 1897, was one of nine life-saving service stations built on the Outer Cape, according to Murray. It was turned into an inn in the 1950s, and then in 1978, current owners Todd LeBart and Hugh Dunbar bought the property and turned it into a disco. As years went by, says Murray, "our clientele got older, had kids, brought them here, and so on."
The Beachcomber has classic Cape favorites: fried clams, seafood platters, and delicious raw bar selections. Bartenders are famous for the Goombay Smash: a juicy Cruzan rum drink. Assistant general manager Steve Ross, also of 27 years, says the staff is what makes the Beachcomber great. "We haven't had to hire a new bartender in 20 years." By night, people can dance to live entertainment featuring well-known bands from around the country. "We're definitely a destination spot," says Ross.
1120 Cahoon Hollow Road, Wellfleet, 508-349-6055
---
A TOAST TO TEN MORE
Sip a craft cocktail and dig into delicious dishes while taking in magnificent water views
Located on Town Neck Beach, Horizons has been a favorite spot since the 1970s—and for good reason. "We have the best view on this end of the Cape; the sunsets are incredible," says manager Michelle Bean. It's the perfect place to enjoy a Cape Cod Reuben or the angus burger deluxe on a Portuguese sweet roll. The bar serves imported and craft beers, plus signature cocktails such as Horizons' famous Beach Ball: white rum, pineapple juice and orange juice with a grenadine float, served with an umbrella. 98 Town Neck Road, Sandwich, 508-888-0060
A popular gathering spot for sports fans, business executives and beach bums alike, this classic spot offers seating on a three-season deck with views of Old Silver Beach. It's named after famed sports personality and philanthropist Arnold Jacob "Red" Auerbach and is adorned with sports memorabilia. The kitchen serves classic burgers, fish and chips, lobster rolls and brick oven pizzas. Specialty drinks include The Mermaid and the Old Silver Cosmo. 350 Quaker Road, North Falmouth, 508-356-2136
"We are Cape Cod casual right on the beach," says Casino Wharf FX general manager Lisa McGrath. Located in Falmouth Heights with views of Martha's Vineyard, Nantucket and Vineyard Sound, this beach bar features everything from a Cape Cod Cosmo to seasonal signature cocktails. One of chef Eric Lemonious' most popular creations includes a seafood stew with whitefish, scallops, clams, shrimp and lobster, with a red sauce and mascarpone cheese. "It flies outta here," says McGrath. Casino Wharf FX features live entertainment most nights. 286 Grand Ave., Falmouth, 508-540-6160
"The waves crash right here and you get the dunes," says director of food and beverage Rob Delaney. Affectionately known as "the Poppy," The Popponesset Inn offers not one, but two options for beach bar hangouts: The Popponesset Inn Bar & Restaurant and The Lure Raw Bar. The restaurant offers a full dining experience, while the raw bar features shellfish and live entertainment practically on the beach. "We're the best local treasure around," says Delaney. 252 Shore Drive, Mashpee, 508-539-8350 (Popponesset Inn); 508-539-4858 (The Lure)
Tucked away in Dennisport, this beach bar is an oasis for the weary traveler. Owner/general manager of 34 years, Janet Hart-Barbato, and her daughter, Kari-Anne Hart, go out of their way to give customers the best Cape Cod casual experience. "We have a wide menu selection," says Hart-Barbato, "from chowder to pizzas, to sliders, to veggie spring rolls." Customers can choose selections from the raw bar, and there's live entertainment nightly. 425 Old Wharf Road, Dennisport, 508-394-0700
Now in its 79th season, the Lighthouse Inn takes guests back to old Cape Cod. Situated on nine secluded oceanfront acres with a private beach, the inn's Waterfront Restaurant offers customers casual seaside cuisine in a newly renovated dining room and oceanfront deck. Chef Paul Beaton whips up burgers, quesadillas, and a sunset salad—greens and fruit topped with shrimp skewers. For cocktails: mudslides and piña coladas abound. "The blender's always going," says manager Bill Sherman. 1 Lighthouse Inn Road, West Dennis, 508-398-2244
Coastally inspired, serving fresh, locally caught seafood, this classic seaside spot at Chatham Bars Inn is known for its sunset clambakes served in an unforgettable oceanfront setting. The upscale dining room is right on the beach, and guests can enjoy traditional fish and chips; fried scallops and lobster rolls; or specialty items, such as the swordfish tacos or the lobster BLT. 297 Shore Road, Chatham, 800-527-4884
The Aqua Bar is located on the beach at the Aquarium Marketplace, a collection of seven different restaurants and bakeries. Customers can enjoy bites from burritos to baked goods, from any of the on-site restaurants, and sip a handcrafted cocktail while lounging on the waterfront deck and taking in magnificent sunset views over Provincetown Harbor. 207 Commercial St., Provincetown, 774-593-5106
Customers can walk right from the ferry to this island gem. With a laid-back island vibe, the Sand Bar & Grill offers the best of both worlds for food—from a burger and fries for the kids  to high-end sushi, served on the outdoor patio. While watching the sunset, customers can sip a Sand Bar Margarita or a Menemsha Sunset: Bacardi Silver and Captain Morgan spiced rum with orange, cranberry and pineapple juices. 6 Circuit Ave. Ext., Oak Bluffs, 508-693-7111
Newly opened this season, this beach bar is destined to become a classic. Owners George Kelly and Nick Nass bring years of combined experience to this open-air beach restaurant on Nantucket Sound. Chef Manny Rojas serves up burgers and lobster rolls, and a special Cubano sandwich with smoky ham, mojo pork and muenster cheese. Customers can sip frozen favorites from the bar or a craft cocktail like the Harbor Breeze, made with raspberry vodka, grapefruit and cranberry. 4 Bathing Beach Road, Nantucket, 508-228-2279
Text by Marina Davalos | Photography by Julia Cumes