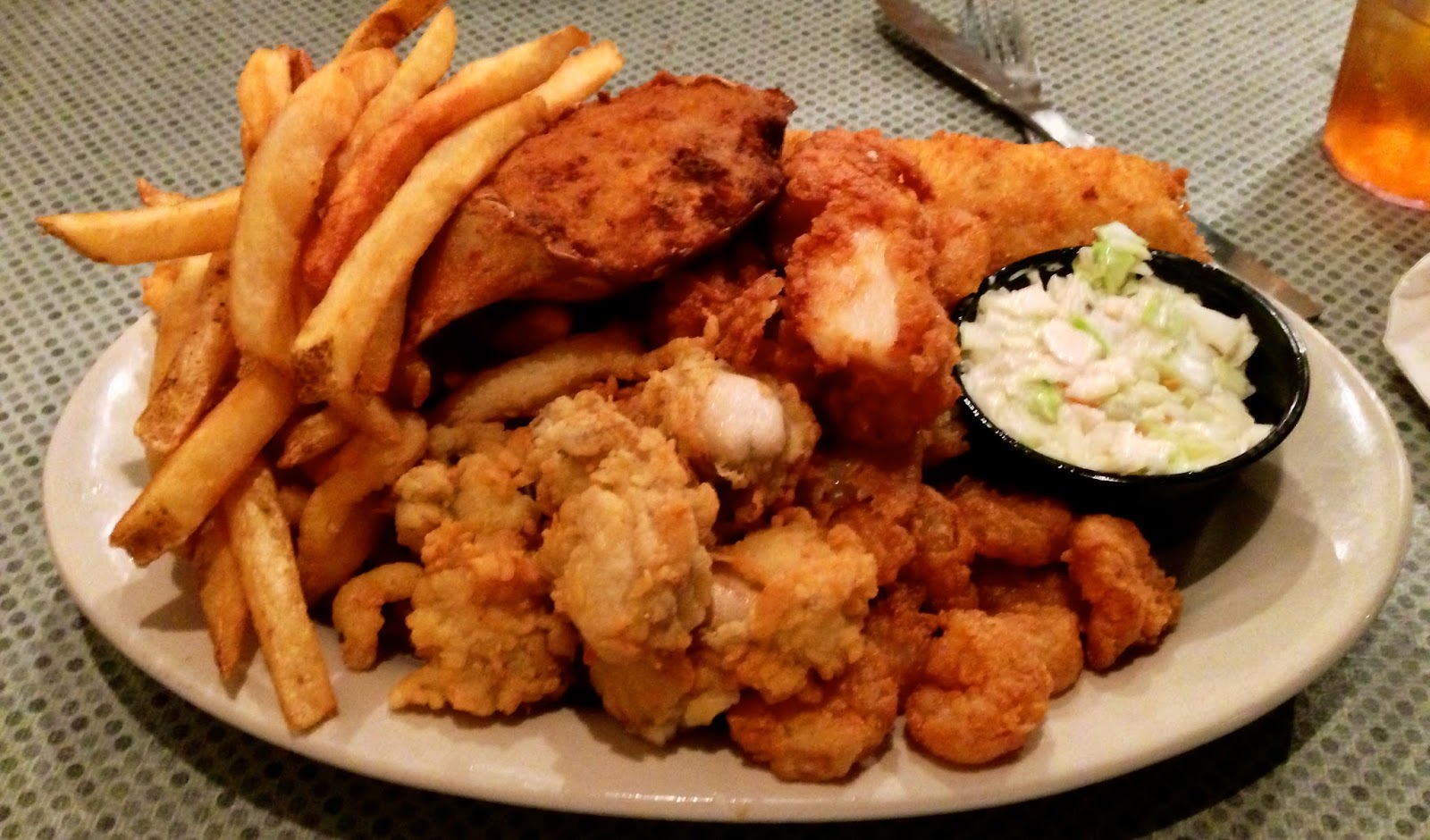 Behold, the clam shack, purveyors of Cape Cod-style fast food beloved by tourists and locals alike. If you're looking for fresh seafood that's been deep-fried, look no further than these top 12 Clam Shacks on Cape Cod. Most are family-owned, seasonal eateries where you order at the window (and more than likely pay with cash), grab a picnic table, pull out your BYOB, and clog your arteries on fish n' chips, clam strips, onion rings, and soft-serve. While the atmosphere is laid-back, you might be taken aback by some of the prices. Consider yourself warned – just cause you're eating off paper plates doesn't mean there's a dollar menu.
1. Seafood Sam's
Seafood Sam's opened it's doors in the summer of 1974. They've since added a Falmouth location and expanded the menu to over 100 items (a kids menu, express lunch, lobster 8 ways, & plenty of options for the seafood-averse).
http://www.seafoodsams.com/  6 Coast Guard Road  Sandwich, MA 02563 (508) 888-4629
2. The Clam Shack of Falmouth
Overlooking Falmouth Harbor, The Clam Shack is the real deal. All the classics are here – fried seafood, picnic tables and water views.
https://www.facebook.com/TheClamShackofFalmouth 227 Clinton Avenue Falmouth, MA 02540 (508) 540-7758
3. Baxter's Boathouse
Built entirely over the water on Hyannis Harbor, Baxter's Boathouse has been serving up fish n' chips, along with all of the other clam shack usuals, since 1957. Eat on the deck and watch the daily catch come in or check out the 21-plus Baxter's Boathouse Club for live entertainment. http://baxterscapecod.com/ 177 Pleasant Street Hyannis, MA 02601 (508) 775-4490 They also won the Bloody Mary of the Year . It is a dinner in itself!!!!!
4.

Spanky's Clam Shack & Seaside Saloon
Located directly on the water overlooking Hyannis Harbor, Spanky's offers clam shack classics as well as plenty of steaks, chicken and pasta dishes. One of the few clam shacks with table service, you can dine inside or out on the deck.
http://www.spankysclamshack.com/  138 Ocean Street Hyannis, MA 02601 (508) 771-2770
5. Captain Frosty's
Open April through September, Captain Frosty's Fish & Chips has been serving up fresh seafood and soft serve ice cream since 1976. We recently tried the fried pickles and swooned.  "We feature FRESH Atlantic Cod in our fish & chips, fresh local clams & scallops lightly fried, meaty lobster rolls, and other favorites such as housemade clam cakes, towering hand-cut onion rings, fresh angus burgers…"http://www.captainfrosty.com/ 219 Massachusetts 6A Dennis, MA 02638 (508) 385-8548
6. Kream n' Kone
The Kream 'n' Kone has been serving up fried seafood and soft serve for over five decades. Their new air-conditioned location features lots of parking, outdoor patio seating and views of the Swan River. Open during the shoulder season as well. http://www.kreamnkone.com/ 961 Massachusetts 28 Dennis, MA   (508) 394-0808
7. Cobie's Clam Shack
Cobie's Clam Shack is located right off the Cape Cod Rail Trail and historic Route 6A. Open seasonally, they've been serving up fried seafood for over 60 years. "You've got to come check out Cobie's Restaurant in Brewster, MA! They've got the best fried clams on Cape Cod! There are tons of great items on their menu in addition to the fried seafood too! Awesome burgers, hot dogs, and fries, panini sandwiches and especially great ice cream! Now they've added Creamy Frozen Yogurt with fresh fruit to the menu!" http://www.cobies.com/  3260 Main Street Brewster, MA 0263  (508) 896-7021
8. Sir Cricket Fish n' Chips
Since 1970, Sir Cricket's has been dishing out pub-style fish n' chips, lobster rolls, chowder and more. Open year-round, the eatery shares space with Nauset Fish & Lobster Pool. "A Cape Cod landmark, Sir Cricket's Fish and Chips has been highly noted by Fodor's, Zagat's, Travel + Leisure, Food & Wine, and thousands of visitors and locals for their mouth-watering fried seafood, lobster rolls, chowder, and more. This is definitely the best seafood at the best prices on Cape Cod!" http://nausetfish.com/sir-cricket-fish-n-chips  38 Massachusetts 6A Orleans, MA 02653 (508) 255-4453
9. Cap't Cass Rock Harbor Seafood
Step into a time capsule: the charmingly authentic Cap't Cass Rock Harbor Seafood has been serving up clam shack fare for more than half a century. Don't miss the lobster roll. [Photo: TripAdvisor] 117 Rock Harbor Road Orleans, MA 02653
10. Arnold's Lobster & Clam Bar
Arnold's has been serving up fresh seafood for over 35 years. The iconic clam shack is open seasonally and lines can be long, but they've got mini-golf to help pass the time. Go for the fried clams and save room for ice cream. "From fried seafood to baked seafood dinners, crispy fried onion rings to fresh salads, creamy chowder to our famous 50s angus burger and foot-long hot dog—there's something for everyone at Arnold's! Our tender fried clams were named "the best in the world" by Food & Wine Magazine!" http://www.arnoldsrestaurant.com/ 3580 State Highway Eastham, MA 02642 (508) 255-2575
11. Mac's on the Pier
All the Cape Cod classics are served up at Mac's on the Pier, right on Wellfleet Harbor. Order at the window -"steamers with broth and drawn butter, a lobster roll, a fried fish sandwich, onion rings" – and grab a table in the sand. "Steamers with broth and drawn butter, a lobster roll, a fried fish sandwich, onion rings––they're Cape Cod classics for a reason. There may be nothing better. But here's satisfaction for those who might crave something else: grilled tuna with summer vegetables and ponzu, a scallop burrito, fish tacos, jambalaya." https://www.macsseafood.com/restaurants/macs-on-the-pier 265 Commercial Street Wellfleet, MA 02667 (508) 349-9611
12. Mojo's
This no-frills Ptown favorite offers most of the clam shack necessities along with a substantial menu of Mexican, melts and more. We're partial to the Onion Chunks, but a basket of Clam Strips is a close second. 5 Ryder Street Provincetown, MA 02657  (508) 487-3140
But please remember that these are only 12 of the best…. There are so many little fried clam nooks and crannies located on Cape Cod – That half the fun is driving around trying to find them!!!!!
Thank you: By Jazmine Hogan Donaldson Aug 9, 2013