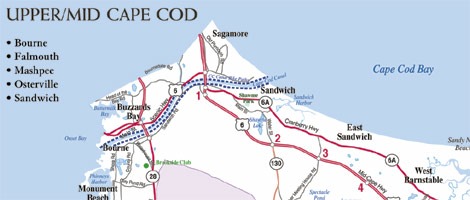 What Is The Upper Cape?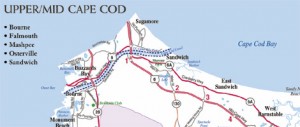 As different as sea shells found on their shores are the four towns the Upper Cape comprises. Closest to the Cape Cod Canal, this region includes the towns of Bourne, Falmouth, Sandwich and Mashpee.
What IsThe Upper Cape!……At the Cape's threshold, providing access via the Bourne, Sagamore and railroad bridges, lies the town of Bourne. With its many harbors, coves and inlets, this town is perfect for beaching, bathing, fishing and boating. Its "hub" location, offering easy access to Martha's Vineyard, Boston, Providence and Newport, makes Bourne one of the Cape's most convenient destinations. The fluted scallop shell and its succulent bounty are celebrated annually in September at the Bourne Scallop Festival.
Falmouth is probably best known for its annual road race. Every August, runners from around the globe pound seven scenic miles of pavement along the Atlantic between Woods Hole and Falmouth Heights. Falmouth is also home to Nobska Point Light, Shining Sea Bikeway, Spohr Gardens and Woods Hole Oceanographic Institution. Considered a gateway to Martha's Vineyard, the Steamship Authority offers ferry service to the island from Woods Hole. (Service to Nantucket is offered from Hyannis on the Mid-Cape.)
Catch a glimpse of Cape Cod's past while meandering along the historic streets of Sandwich. Founded in 1637, this seaside village is one of our country's oldest towns. Visit its historical museums, pedal along Cape Cod Canal's bicycle path or stroll down Sandwich's Boardwalk to enjoy views of Cape Cod Bay. In late spring, Heritage Museum and Gardens presents a spectacular display of Dexter rhododendrons.
Four of the largest fresh-water ponds on Cape Cod are located in the town of Mashpee, which also boasts miles of sandy, ocean beaches. In 1620, Pilgrims were welcomed by the native Mashpee Wampanoag Tribe, which gained federal recognition last year. If you visit in early July, attend the annual Wampanoag Pow Wow, where you can witness tribal drumming and dancing.
Written by: The Cape Cod Chamber of Commerce October 21, 2013
– See more at: http://www.capecodtravelguide.com/Upper-Cape#sthash.AK0fdLzc.dpuf