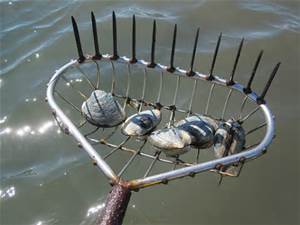 Clams and other shellfish that are practically a requisite part of any trip to Cape Cod. People enjoy them raw, steamed, stuffed, in chowders, or done in fancier fashions (Rockefeller or Casino among the choices).
There are so many ways to enjoy clams, but what exactly are the differences between the different types? Various descriptions pop up on menus and when visitors go to a local fish market, they can choose from different kinds of clams, but why are people more inclined to choose certain clams over others?
The different kinds of clams have different tastes and some are better than others for certain culinary experiments. So, for those in the dark about the differences between clams, hopefully this article will clear up some of the confusion.
Bruce Scott, the manager of Chatham Fish and Lobster, said that the main difference between types of clams is size. Little necks, cherry stones, and quahogs are all the same type of clam, with the only difference being that they range in size with little necks being the smallest and quahogs being the largest.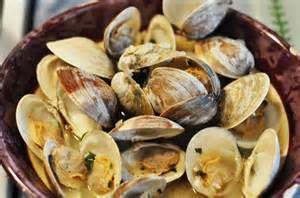 That size difference accounts for the difference in taste and texture of those clams. Scott said that as the clam gets larger, the meat gets tougher. So while little necks and cherry stones are good for eating raw, quahogs are mostly only good for use in chowders or for stuffing. Scott said that typically little necks and cherry stones are used for clams casino.
Scott said that there is another type of clam as well the soft-shell clam (steamers). Scott said that while the nickname steamer belies the general purpose of the soft-shell clam, the clams are also very good in chowder. Scott said that he prefers chowder made with steamers to chowder made with quahogs. "I like the clams [steamers]. I think they're sweeter and not as chewy." Scott added that most places use quahogs in their chowders, so when getting a cup of chowder, ask if steamers or quahogs are used if you have a preference.
Scott said that his favorite way to enjoy clams is to have little necks on the half shell with cocktail sauce. "Real cocktail sauce," Scott said, "made with plenty of horseradish."
Scott also mentioned that another good shellfish commonly associated with clams is oysters, which he said he thinks are best eaten raw (he said that he likes oysters on the half-shell better than little necks).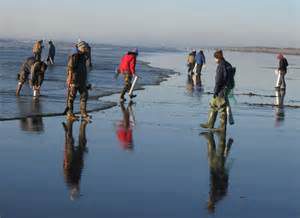 Scott said that another difference people should know about is the difference between bay and sea scallops. Sea scallops are bigger and tend to be a little tougher, said Scott, while bay scallops are tender and sweeter. Bay scallops are smaller than sea scallops and are only harvested at certain times of the year, said Scott.
Another favorite way to serve up shellfish for Scott is fried. Scott said that people can buy oysters as they are or pre-shucked, then all they need to do is flour them and fry them in canola oil for a tasty treat.
At Chatham Fish and Lobster, they have started doing gluten-free fried shellfish by using corn flour. "It's been very successful," Scott said, "I like the taste better because it's a lighter flavor."
Recipes
Pasta alle Vongole (pasta with clams): This recipe is recommended by Walter Redstone, the Manager at the Chatham Fish and Lobster Co. in the Ring Bros. Marketplace in South Dennis. The recipe serves 4-6 people.
3 quarts water (salt optional)
4 tbsp. olive oil
4 garlic cloves, sliced
2 pounds live clams (little neck works best), well scrubbed, in their shells
¼ tsp red pepper flakes
¼ tsp salt
1 cup white wine
1 cup clam juice
3 tbsp. chopped fresh parsley
½ cup Tomato sauce
1 pound pasta (linguine, spaghetti, or spaghettini are all recommended)
In a large pot, bring the water to a boil with or without the optional salt.
Pour the oil into a large sauté pan set on medium heat and cook the garlic until it starts to sizzle (about 2 minutes).
Add the clams, red pepper flakes, and salt and cook for 1 minute.
Add the wine and cook for 1 minute.
Add the clam juice, parsley, and tomato sauce and bring to a boil.
Reduce to a simmer, cover the pan, and cook until all the clams have opened (about 3-5 minutes).
Take the clams out of the sauce, place in a bowl, and let them sit for a few minutes. Discard those that still haven't opened. Take half of the clams out of their shells and mince them.
Add all the clams to the simmering sauce about 3 minutes before the pasta is done. Mix well and cover.
Once the pasta is made, drain well and return to the pot.  Add the sauce, toss to coat well, and cook over medium heat for 2-3 minutes. Most of the sauce should be absorbed.
Tip: When you bring the clams home, put them in a bowl of cold water for 10-15 minutes and then drain them. Do this twice. It will help to clean out any grit, sand, and dirty water. Also helpful is scrubbing the shells with a small brush.
Curried Clams (recommended by the staff at Sir Crickets Fish n' Chips in Orleans): Recipe serves approximately 4 people.
For the sauce:
1 small minced onion
1 minced stalk of celery
1 pint chopped quahogs and their liquid
½ stick of butter
½ tsp. pepper
1 tbsp parsley
For the rice:
3 cups rice
½ tsp curry powder
1 tbsp butter
2 chicken bouillon cubes
Sauté the onion and celery with the ½ stick of butter. Add the quahogs and their liquid, the pepper, and the parsley. Simmer for 10 minutes. Serve over the rice.
Cook the rice with the curry powder, tbsp butter, and the bouillon cubes.
Deviled Clams (recommended by the staff at Sir Crickets Fish n' Chips in Orleans). Serves 8-10 people.
50 cherry stones
2 tomatoes (chopped)
1 onion (diced)
1 tsp. parsley
1 tsp. thyme
1 tsp. marjoram
½ tsp. pepper
Have breadcrumbs and butter on hand
Finely chop the meat of the cherry stones. Mix with the tomatoes, onion, parsley, thyme, and marjoram. Add the pepper and enough breadcrumbs to hold the mixture together.
Pack the mixture into the shells of the cherry stones, dot with butter, and bake at 375 degrees for 15 minutes.
Author Matilda Brown