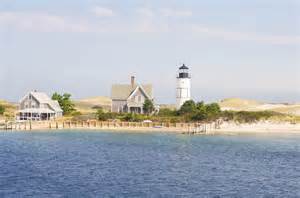 Race Point Lighthouse in Provincetown. Photo by John Fitts.
"(A lighthouse) is such a potent image: practical, because lives depend on it, and at the same time, utterly romantic, this lonely building on the cusp of land and sea, sending out light into the darkness."  – Jeannette Winterson
To this day, the Cape's maritime history reflects in the beacons of the many Lighthouses On Cape Cod that still mark our shores.
For centuries, lighthouses and the keepers within helped keep ship captains and crews safe as they navigated Cape Cod's often treacherous waters.
While some lighthouses are privately-owned and trespassing is forbidden, most are open to the public for tours.
Highland (Cape Cod) Lighthouse – Truro
Nestled in the highlands of Truro, Cape Cod's oldest lighthouse (1857) is a major attraction for visitors. Since 1797, there has been steady erosion at the cliffs in front of the lighthouse. In 1990, Truro residents raised funds locally and internationally, and in July 1996, the lighthouse was moved to its present location. The 430-ton lighthouse, lubricated with Ivory Soap, was pushed 453 feet to a safer location, to the tune of a $1.54 million dollar cost. Maintained by the United States Coast Guard, Highland Lighthouse continues to help ships navigate.
Highland Lighthouse is open to the public from mid-May to mid-October. There is a fee to climb the lighthouse. Requirements: Children need to be 48 inches tall to climb.
Some limited handicap parking is available. If you're not up to climbing, you can view a free 10-minute video tour of the lighthouse history, including the moving of the lighthouse in time lapse photography and the re-lighting of the light.CapeCodHighlandLighthouse, Highland Light Road, North Truro, 508-487-1121. See the lighthouse on GoogleMaps here.
Chatham Cost Guard Auxiliary & Chatham Lighthouse – Chatham
Originally built in 1808, Chatham Lighthouse is legendary Cape wide—not just in Chatham. It stands 40 feet tall, across the street from Chatham Lighthouse Beach, overlooking Chatham Bar. An active duty Coast Guard Small Boat Station lives here, overseeing the safety of local fishermen and boaters, and all other maritime emergencies via their Search and Rescue mission. Senior Chief and Officer in-Charge Robert Goley says, "The Coast Guard Auxiliary keeps accurate counts of our visitors, but I'd say that for every tour which runs for 3 hours, there are about 200 visitors a day, and several thousand per summer."
The Lighthouse climb involves "significant physical exertion," to climb the 44 steep steps followed by 8 steps on a ladder; those who can't or don't want to climb can stay downstairs to hear a brief history of the Lighthouse.
Free admission and no reservations; see the CapeCodTravel.com calendar for lighthouse tour dates May through October, with select dates in November and December.
Chatham Lighthouse, 37 Main Street, Chatham, MA 02633, 508-945-3830. See the lighthouse on Google Maps here.
Race Point Light Station – Provincetown
Race Point Lighthouse tours are the 1st and 3rd Saturdays from June until October, 10:00 a.m. to 2:00 p.m.
The cool part is that you can only access the lighthouse by walking or with your own four-wheel drive vehicle (with proper permit).
The keeper's house has three bedrooms, a half-bath, full-bath, full kitchen, two refrigerators, front porch, outdoor shower and grill. Powered fully by "green" energy/bio-diesel fuel, the house boasts miles of views of ocean, and many guests have seen whales, dolphins and countless sea birds. Check website for rates. The Whistle House is more remote, nestled among the dunes, and accessible only by a four-wheel drive vehicle.
* Important note: The touring season will be suspended if the federally-protected Piping Plovers nest and block access to the lighthouse. Please check website for updates.
Race Point Lighthouse, Race Point Road, Provincetown, 508-487-9930. See lighthouse on Google Maps here.
Nobska Point Light – Woods Hole
High on a hill overlooking Martha's Vineyard, this classic New England-style lighthouse is usually seen from a passing ferry boat as they travel from Woods Hole to The Vineyard.
Established in 1828, it was built to protect boaters in Vineyard Sound and Buzzards Bay at the entrance to Woods Hole Harbor. A popular lighthouse with beautiful views and grounds, it attracts tens of thousands of visitors each year.
Since the former keeper's dwelling is home to a U.S. Coast Guard commander, the tower is open to the public only a few days each year; the grounds are open to the general pubic and for special events.
Public tours are currently suspended.
Nobska Lighthouse, Nobska Road, Woods Hole, MA. See the lighthouse on GoogleMaps here.
Nauset Lighthouse – Eastham
The Gothic Revival-style Nauset Lighthouse is maintained by the Nauset Light Preservation Society. A guide for small boaters and fishing vessels, this most well-known of the lighthouses is a Cape Cod icon; you can see its beacon on calendars, license plates and even on potato chip bags. This lighthouse's history is especially sweet, given the lighthouse's near demise and the rescue by passionate citizens of Eastham, who formed the Nauset Light Preservation Society, a non-profit which financed a project to move the lighthouse further inland in 1996, preventing the historic light from deadly erosion.
Tours are on Sundays, May through late October, plus Wednesdays during July and August. Free admission; educational groups can tour any time of the year. See the CapeCodTravel.com calendar for lighthouse tour dates.
Nauset Lighthouse, Oceanview Drive, across from the Nauset Light Beach Parking Lot, North Eastham, 508-240-2612. See the lighthouse on Google Maps here.
For information on a few more Cape Cod lighthouses, click here.
– See more at: http://www.capecodtravel.com/article/2015/12/13/1226-cape-cod-lighthouses#sthash.p4Je5Hpd.dpuf
Article | 12/13/2015 – 7:10am | by Cheryl Kain