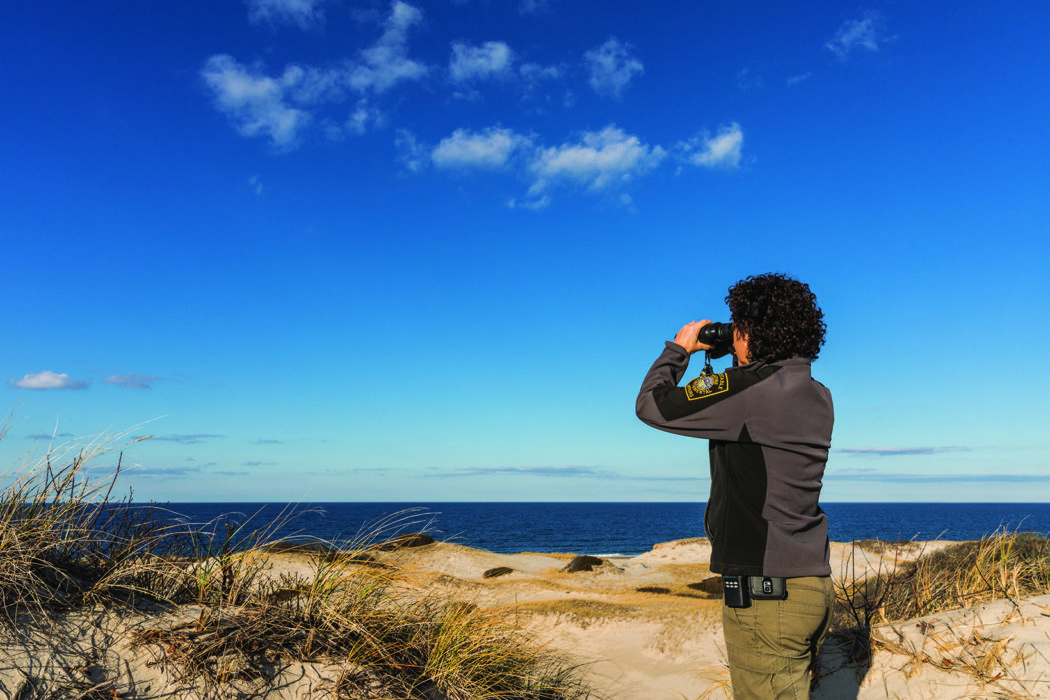 Think Sandy Neck is just about off-road vehicles and piping plovers? Park Manager Nina Coleman, who oversees the 4,700-acre town property, says there's much more to the area than people realize.
It only takes a minute for the conversation to be interrupted. Sandy Neck Park Manager Nina Coleman stops her truck and hops out. "I just saw a piece of trash and I have to pick it up," she says. "That's who I am. I'm the woman who can't drive by trash."
As we continue rolling along the beach and its network of dirt trails, she talks about herself and her job. Coleman is in charge of a 4,700-acre town property that combines barrier beach, dunes, maritime forests and marsh. "It's like its own living, breathing entity and that is how I manage it," she said.
That management sometimes requires a balancing act between recreation and conservation, but she's used to balancing acts. "Being a professional, being a manager, being a mommy—juggling all that has been hard and has been rewarding," she says. She and her husband live in Marstons Mills with their daughter, Ruby Lou, 11, and son, Finbar, 9.
Coleman was born in Illinois and spent her teenage years in Vermont. She spent some time teaching horseback riding and training horses before finding her way to Cape Cod, where she got an associate's degree at Cape Cod Community College. "I had a great biology professor and I was completely taken by the subject," she says. "I've always been interested in the natural world. I discovered when I went to 4Cs that the more you know, the more you want to know. When you look at nature, it's telling you so many interesting stories. That's what hooked me."
She continued her studies at UMass Amherst, where she earned a bachelor's in environmental science and a master's in natural resources conservation. "My master's degree research focused on a rare plant on Sandy Neck, so I was in the right place at the right time to land this position in 2003, and I've been here ever since," she says.
At Sandy Neck, she oversees two full-time, year-round employees and at least 25 seasonal employees. Summer workers include a biology staff that protects and researches diamondback terrapins and nesting shorebirds ("typically a college student who's studying biology"), enforcement officers who can write citations, lifeguards, gatehouse attendants, and maintenance and cleaning crew.
"It's a happening place in the summer," she says. The parking lot will often be filled to capacity (260 cars) with 500 or more off-road vehicles on the beach.
While beachtime in ORVs is the biggest recreational use, portions of Sandy Neck are available for horseback riding, fat-tire mountain bike riding, birdwatching, shellfishing, hunting and camping (mostly for Boy Scouts and Girl Scouts).
"This place gets in your blood. It really does," she says. "People get married out here. They're raising their kids out here. There are services out here when people pass away. It's a huge part of people's lives. I think a big part of my job is to be respectful of how people are so connected to it."
Coleman is the first woman to become park manager at Sandy Neck.
"Some things are easier because I'm a woman," she says. "The enforcement stuff, if you have two strong alpha personalities, it can ramp up quickly. Sometimes when I roll up on a situation, I feel like I'm in a better position coming in as a short woman. But plenty of people look over my head and see a male employee behind me and start talking to him as if he was in charge.
"My whole life, I've been in unusual positions. After I got out of high school, I was working at a gas station. I was always that girl who tried to take an unusual path. I'm used to it and I like the challenge."
As we drive along the beachfront, she points out a grey seal that's popped its head above the water. "It used to be harbor seals and now I'm seeing a lot of grey seals," she says.
While many people associate Sandy Neck with piping plovers, whose near-shore nests lead to a shutdown of a portion of the beach each summer, the sprawling area is also home to deer, coyotes, weasels, otters, spadefoot toads, snowy egrets and many other creatures of the land, air and water. Between the six-mile-long peninsula's northern beach and southern marsh side are miles of trails through dunes and forests, with patches of wetlands hosting small cranberry bogs.
By now, we've crossed to the southern side of Sandy Neck and we're driving along the marsh trail on our way back to the gatehouse.
"The Great Marsh is the largest marsh on Cape Cod, the second largest marsh in Massachusetts and the most beautiful marsh in the world," she says.
"What I do when I lead hikes is try to show people this side of Sandy Neck. When you think of Sandy Neck, a lot of people think of off-road vehicles. That's what it's known for and that's where people are. They're all concentrated in one spot because the plovers close a lot of the beach. But there's so much more going on here."
---
Sandy Neck's Secrets
Some things that most people don't know about Sandy Neck:
• Although the approach road to Sandy Neck turns north off Route 6A in Sandwich, all of Sandy Neck is in Barnstable. "A lot of people think it's co-owned by Barnstable and Sandwich," says Park Manager Nina Coleman. "It makes me crazy when Channel 5 will be in the parking lot for a shark sighting or a storm coming in, and it will say at the bottom of the screen 'reporting from Sandwich.'"
• The beach is very rocky, but "the vast majority of Sandy Neck is sandy," she says. "We also have these very mature forested areas. When you get in them, you're in dense forest. People don't expect that."
• There is no Trail 3. Trails 1, 2, 4 and 5 cross Sandy Neck running north and south, but Trail 3 was abandoned many years ago.
• You can't get there from here—if you want to drive to the lighthouse at Sandy Neck's eastern end. "The number one question at the gate is 'How do I get to the lighthouse?' The GPS tells you to drive down the beach and take a right. I've had sedans, muscle cars, motorcycles and minivans head down the access trail and get brutally stuck. You can hike to it or get to it by boat. We recommend that people who want to see the lighthouse, which is on private property, go out on a whale watch, which goes right by it."  —Bill O'Neill
By Bill O'NeiLl | Photography by Betty Wiley