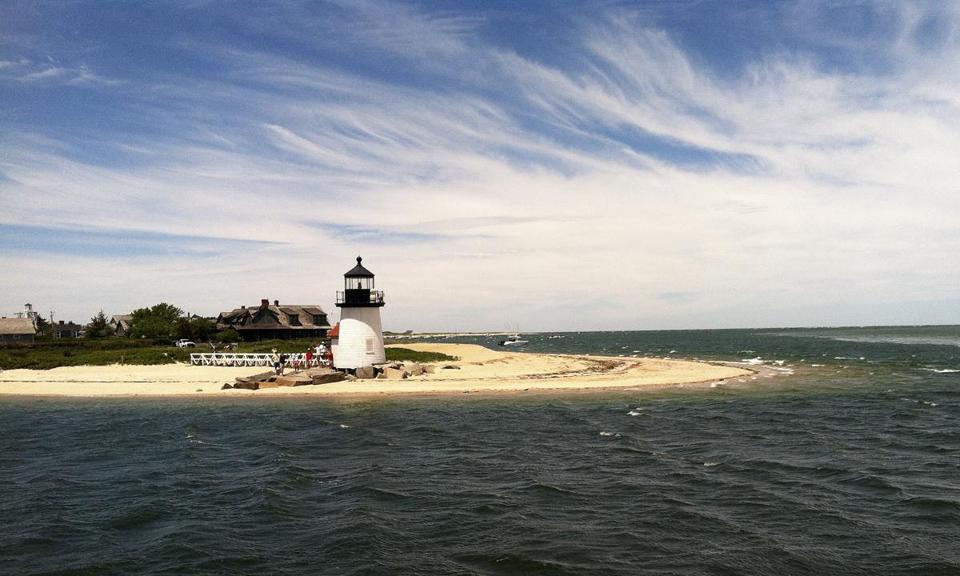 Nantucket or Martha's Vineyard: What's your island style? Both islands have beautiful beaches, a rich history, and snazzy inns, shops, and restaurants. They even share the same area code. Yet, many New Englanders vacation either on Nantucket or Martha's Vineyard. Rarely both. It's a pleasant rivalry of sorts, yet regulars to each island have fierce feelings about where they belong.
If you're not a regular, however, how do decide which island is best for you? Here is a short quiz to help you decide.
BIG OR SMALL? Relatively flat, Nantucket is only 14 miles long and 3½ miles wide, versus hillier Martha's Vineyard, which measures 25 miles long and 9 miles wide. The Vineyard's larger size means it takes longer to get around, whether by foot, bike, car, or bus, but you have more to explore. In terms of population, the Vineyard houses 15,000 year-round residents with approximately 115,000 during the summer months. Nantucket's year-round population is 12,000 and 55,000-plus come summer.
ONE TOWN OR SIX? Nantucket has one main town, a quaint, cobbled center (designated a National Historical District) flanked with shops, restaurants, and historic buildings, which means you find little variation beyond this "whaling capital of the word" with a Quaker heritage, throbbing social scene, and great wealth. Alternatively, Martha's Vineyard, has six distinct towns, including Aquinnah at the westernmost tip, which houses Gay Head Cliffs, Gay Head Lighthouse and lands of the Wampanoag Tribe of Gay Head; bucolic Chilmark with pastures and stone walls; Edgartown with its white-painted whaling captain's houses and striking churches; Oak Bluffs, famous for its Methodist Campground, composed of confetti-colored gingerbread cottages; Vineyard Haven, the island's primary ferry port packed with eateries and stores, and small, rural West Tisbury.
EASY ACCESS OR MORE REMOTE? Nantucket is 30 miles out to sea from Cape Cod versus Martha's Vineyard, which sits only 7 miles away. This means you can get to the Vineyard in 35 minutes by fast ferry, versus 1 hour to Nantucket. (Both islands have airports served by carriers, such as Cape Air. ) Nantucket's far-flung location instills visitors with a sense of isolation and means it receives fewer day-trippers than the Vineyard. The island, however, can become so enveloped in fog, arriving and departing flights will be canceled.
PREPPY OR BOHO? Nantucket has long drawn preppies, who flock to Murray's Toggery Shop for Nantucket reds — thick tomato-aspic colored cotton pants, shorts, and other garments. (The store now has a branch on Martha's Vineyard.) Women often wear bright frocks in hot pink, lime, turquoise, white and yellow, particularly from Lily Pulitzer, while males sport whale logo belts. For the ultimate female status symbol, nothing beats carrying a Nantucket Lightship Basket, an oval, woven, rattan handbag often with a decorative scrimshaw top. In recent years, anything with Nantucket's International Air Transport Association airport code, ACK, on it — mainly T-shirts and caps — indicates you're an insider.
The Vineyard has a more laid-back look ranging from Boho (think Carly Simon and James Taylor ) to surfer-sailor. Yes, Vineyard Vines has made a sartorial splash on the island with its pink whale logo and sherbet-colored duds (the store's also on Nantucket), but generally, the island cares less about labels and more about flowy-skirted subtlety in colors like cream, flax, navy, and black, as in the red-collared black Labrador logo stamped on T-shirts and caps locals wear from Black Dog Water Street Bakery, Café, and General Store.
WATER OR WINE? Edgartown and Oak Bluffs are the only towns on the Vineyard with (gasp) alcohol for sale. Nantucket, however, loves its cocktails, which flow freely at restaurants, bars, and private parties all over the island.
FOOD, FARMS, AND SPIRITS Both islands pride themselves on farm-grown, seasonal produce, superb seafood, and almost no chain restaurants. (Martha's Vineyard has a Dairy Queen.) Martha's Vineyard which has about 90 restaurants, 40 farms, and various spirits from Martha's Vineyard Distilling Co., Martha's Vineyard Distilling Co., Offshore Ale Co., and Bad Martha brewery. Nantucket has nearly 80 restaurants, 17 farms, and spirits from Triple Eight Distillery-Cisco Brewers. The island also has several coveted foodstuffs, including Nantucket Quahog chowder, Nantucket Bay scallops; cornmeal from The Old Mill (built in 1746 and the oldest functioning mill in America), Nantucket Portuguese sweet bread that sailors from the Azores and Cape Verde originally brought to the island, and wild beach plum jam.
MOVIE MECCA OR FESTIVAL HOTSPOT? Hollywood has visited the Vineyard multiple times for the filming of "Jaws" (1975), "Jaws 2" (1978), "Jaws: The Revenge" (1987), "Sabrina" (1995) with Harrison Ford, and "Stuck on You" (2003) with Matt Damon, to name a few. The island also hosts multiple film festivals. Although Nantucket was the setting for the 1986 comedy "One Crazy Summer" with John Cusack, filming was done on Cape Cod. And, although the island hosts the annual Nantucket Film Festival, it tends to celebrate arts and culture through festivals highlighting everything from books, cranberries, daffodils, and gardens to dance, sandcastles, comedy, yoga, and wine.
WIPEOUT WAVES OR MILES OF SAND? Nantucket has dozens of beaches, many with strong currents and heavy surf, meaning bomb breakers, particularly on the South Shore (beware of the riptide). The nearby Gulf Stream also warms the waters, as it does on the Vineyard, which also has oodles of beaches, many with protected easy waters along the northern and eastern sides. Additionally, the Vineyard has a nude beach!
REAL ESTATE FOR MILLIONAIRES OR BILLIONAIRES? The median price of homes currently listed on Nantucket is $2.5 million, compared with under $1 million on the Vineyard. This is largely because of Nantucket's smaller size, ergo less inventory.
If you scored more points for Martha's Vineyard, you favor a larger, more diverse island with relatively easy access, a laid-back vibe, slightly lower prices, and lots of great farms, restaurants, and places to hide, particularly if you're a movie star or president.
If Nantucket was your choice, you prefer an island that feels like a world of your own, is easy to get around, has one central town and a distinct style, history, along with a hip, happening, often pricey restaurant, bar, and social scene.
By Victoria Abbott Riccardi GLOBE CORRESPONDENT