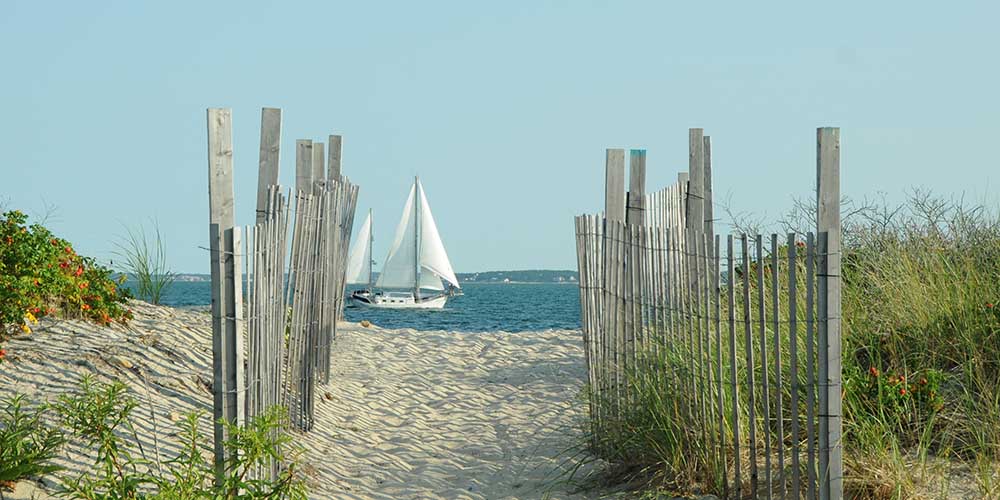 Cape Cod, a land of enchantment jutting out into the Atlantic like a raised arm to smack ships down in brutal storms. This is where America as we know it began and it offers something for everyone. Living history, vintage mom and pop shops, and a general slower way of life make this one of the best spots on Earth to empty your bucket list. Here are the top 10 reasons to Visit Cape Cod and  get to Cape Cod now.
1. Top-rated beaches
The beaches of Cape Cod are some of the best in the world. Dr. Beach named Coast Guard Beach in Eastham as #6 for 2017 Top Beaches in the USA. With three coasts to choose from, travelers are never far from a spectacular beach on Cape Cod. The Nantucket Sound on the South coast offer warmer waters for swimming, the Outer Cape beaches on the Atlantic have giant sand dunes as their back drop to the sea, and the flats of the Cape Cod bay at lower tide are a sight to see!
2. Classic main streets
There are five classic Cape Cod Main Streets for travelers to enjoy shopping, strolling, ice cream, and that old time feel that makes us all feel like kids. They are: Falmouth, Hyannis, Harwich Port, Chatham, and Provincetown. Country Living Magazine listed Harwich Port as one of the Top 25 in the USA. See reason number nine for more on this great town.
3. Fresh seafood
There is a big difference in seafood and straight from the sea seafood. Experience what fresh really means at the numerous seafood shacks or restaurants around Cape Cod. With great options like Sesuit Harbor Café in Dennis or Mac's on the Pier in Wellfleet, you get to experience the real feel of Cape Cod in the summertime…unforgettable. Oysters on the half shell, lobster (rolls), clams, scallops, and mussels are all local and are a taste explosion if you have not truly had fresh seafood before.
4. Lighthouses
If you like lighthouses (and we are fascinated by them) then you will love choosing from 15 classic examples of New England lighthouses. They dot the coast from Falmouth to Provincetown and at times offer tours for the curious. Feel the isolation a lighthouse keeper caught in the power of a New England Nor'Easter must have felt. Climb the winding steps to the top of these lifesavers and catch one of the best views on Cape Cod. Two favorites are Highland Lighthouse in Truro and Nobska Light in Woods Hole. Both are stunning examples of sturdy buildings built to withstand the worst.
5. World class whale watching
The Stellwagen Bank National Marine Sanctuary is just off the tip of Provincetown and the whales are there every year. See everything from Humpback, Finback, Minke, Sei, Pilot, and nearly extinct Right Whales! They choose this area to breed every year and the boat captains know where to find them. If you want to see whales, this is the place to do it. Dolphin Fleet Whale Watch out of Provincetown have never let our guests down. Everyone sees whales, guaranteed.
6. Bike trails
Bike a little or bike a lot, there is a trail on Cape Cod for you. Skirt the coast on the Shining Sea Bikeway from Falmouth to Woods Hole for incredible views. Choose to bike up to 26 miles on the Cape Cod Rail Trail from Dennis to Wellfleet or its offshoot, the Old Colony Rail Trail to Chatham. Be careful if you tempt fate on the Provincelands Bike Trail in Provincetown. It is an amazing but at times treacherous ride, through the Dunes of the Provincelands.
7. Swimming holes
If you are not a beach person or have had enough for the trip, head to one of the hundreds of kettle ponds that dot Cape Cod. These fresh water swimming holes are an amazing escape and always offer as little or as much privacy as you want. You just have to look in the right place. A favorite is Cliff pond in Nickerson State Park in Brewster. It is as close to heaven on Earth as you might find.
8. Day trip to the islands of Nantucket or the vineyard
With multiple ferries running each day, travelers are rarely without options when it comes to a quick jaunt to the islands. Take a vacation within a vacation to experience two of the most talked about settings in the world. Perhaps hobnob with a celebrity at one of the many markets or restaurants as you explore island life in New England. There are no shortage of great sights to see as you day trip the islands and get a feel for "how the other half lives".
9. Harwich Port
Readers of Coastal Magazine voted Harwich Port #2 Happiest Seaside Town in the USA. There is a reason why. Experience the slow down of a perfect day on Cape Cod strolling Harwich's Main Street, eating Sundae School Ice Cream, and enjoying the warmer waters of the Nantucket Sound. Harwich's Port Summer Nights are every Wednesday night in July and August with live music, vendors, and great people sharing a memorable night out on the Cape.
10. Nostalgia
When was the last time you enjoyed a movie at the drive-in theater? Possibly never. Cape Cod has one of the few remaining theaters in operation in the USA and it is an experience not to be missed. Kick back your seat, tune your radio to the right station, and watch Back to the Future (or whatever movie is showing at the time) right from your car! It is a throwback to a simpler day and the feeling of nostalgia runs high. Everything from the snack bar to the old stereo speakers that hang through your window (some still work!) feels like a simpler time.
Mike Hogan is the Owner of The Platinum Pebble Boutique Inn. The Platinum Pebble Boutique Inn is a luxury inn located in the heart of Cape Cod in the town of Harwich.
By Mike Hogan on Mar 27, 2018