A perfect day in Eastham is a day in and near the water. Known by drivers as the place where Cape Cod turns north and the speed limit drops to a radar-enforced 40mph, most of Eastham east of Rte. 6 falls into the Cape Cod National Seashore.  Start at the Seashore's Salt Pond Visitor Center (50 Nauset Rd., 508-255-3421) where the short film, "The Sands of Time," explains how Cape Cod was formed. The center's museum touches on whaling, lifesaving, and lighthouses, but its newest and largest exhibit is devoted to Wampanoag culture and history.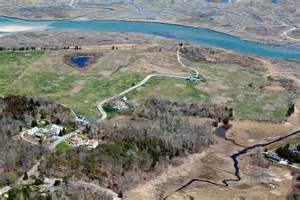 Two miles south off Rte. 6, signs lead to Fort Hill Trail, an easy 1.5-mile walk with panoramic views of Nauset Marsh. Near the parking lot, the Edward Penniman House with its whalebone arch gate was built in 1868 by an Eastham man who hunted whales from the Arctic to the South Seas. Tours of the house are offered Monday and Friday at 11 a.m.; reserve at Salt Pond Visitor Center.
Most Eastham beach goers take the Seashore shuttle to magnificent Coast Guard Beach,  if you drive a mile north up Ocean View Drive, Nauset Light Beach has similar stretches of sand for sunning and rolling waves for swimming and body-surfing—plus its namesake lighthouse. Bring a bag of Cape Cod Potato Chips to compare the illustration with its model. The tower (painted red and white in the 1940s) was moved from Chatham in 1923 to replace the original wooden Three Sisters lighthouses, now decommissioned and sitting in the woods above the parking lot. Free tours of Nauset Light are offered 4:30 p.m.-7:30 p.m. Sundays through the summer, and also Tuesdays and Wednesdays in July and August.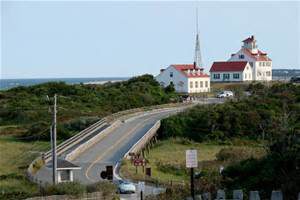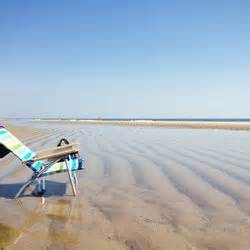 A barnyard-themed mini-golf course and 5,000 square feet of taffy, T-shirts, mugs, and silver bangles, the Cape Cod Gift Barn (4180 Rte. 6, 508-255-7000) provides a commercial complement to the day on the National Seashore. Play a second round with a pirate theme—have a jumbo lobster roll—at Arnold's Lobster & Clam Bar (3580 Rte. 6, 508-255-2575).