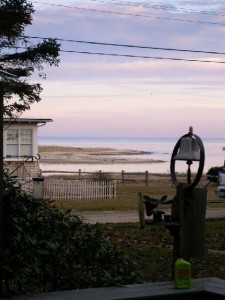 If you have not yet enjoyed waking up to a once in a life time water view then you have not yet lived! Only when you rent a water view rental on Cape Cod, can you have direct access to ocean waves, sand dunes, and the sounds of seagulls flying overhead. It may be a lake or it may be a marsh or a wide open ocean view…but only water view rentals on Cape Cod offer you Mother Nature at her finest! Walk along the beaches, collect sea washed stones and glass….and return to your abode even in the rain and still enjoy the sites! There is nothing like relaxing on a hammock on the porch or waking up to the sounds of water playing upon the sandy edges of a beach….or the sounds of heron and stork flying overhead….Bask in the sun in the privacy of your own deck…. and while you are settling in for the night peek out your windows and enjoy a last glimpse of your spectacular gift from Nature itself before you drift off to a peaceful lullaby.
 FUN THINGS THAT WATER VIEW RENTALS ON CAPE COD REVEAL!
Is Painting a hobby? Is Taking photographs a love? Is Bird watching and nature loving a heart throb? Is Recording the ethereal sounds of Mother Nature a passion? Well…. water view rentals on Cape Cod accommodate those needs and they are perfect place to be to capture all of the above desires and more. The marshes are a delight…watch blue herons fly over and get your binoculars ready for the many Osprey nests that abound nearby. Get your easel, Paints and canvases ready to create that fin art to hang on your wall as your Cape Cod Trophy. Start a scrapbook of the many birds, fauna and fowl that habitat on Cape Cod. Use that soundtrack as a background for a movie that you are producing or just to sit back and relax to when the world attacks you with daily stress. It does not stop….let your imagination guide you through the waterways on the Cape and then exit out a small bay to find you have so much more to do!