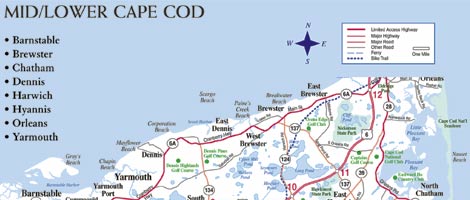 What Is The Lower-Cape!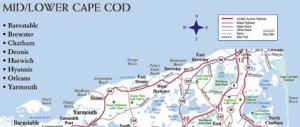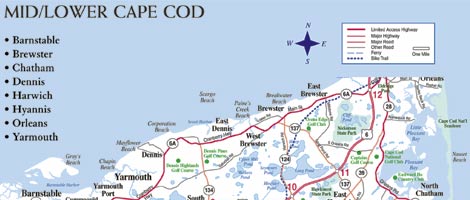 If you look at the Cape as a flexed arm, the towns around the elbow—Brewster, Harwich and Chatham—make up the Lower Cape. One of the Cape's most picturesque towns—Chatham—sits at the elbow. With its shop-filled old Main Street, Chatham's walking village and gorgeous ocean vistas (complete with lighthouse) bring thousands of visitors each year. Very popular are the Friday night summer band concerts in the park gazebo, the VFW clambakes and the Chatham A's baseball games. The movie "Chatham" was filmed here last year, with Burt Reynolds starring as a retired sea captain.
What Is The Lower Cape!  Once an enclave for sea captains, Brewster offers a variety of quaint inns, restaurants and beaches. Antique shops and art galleries line the Old King's Highway, historic Route 6A. Brewster is also home to the Cape Cod Museum of Natural History.
A cluster of seven villages, Harwich offers beautiful beaches on Nantucket Sound, as well as a number of picturesque ponds. Strong on agriculture, Harwich is known for its annual cranberry festival in the fall. It is also home to Cedar Spring Herb Farm and the Cape Cod Lavender Farm.
Written by: The Cape Cod Chamber of Commerce October 21, 2013
– See more at: http://www.capecodtravelguide.com/Lower-Cape#sthash.FGOtalj5.dpuf