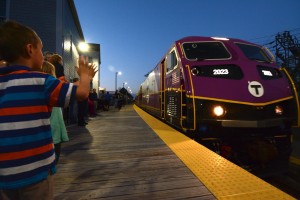 CCB MEDIA PHOTO
The CapeFlyer arrives into the Hyannis station from South Station in Boston.
HYANNIS – Ridership on the CapeFLYER continues to grow. The weekend summer train service between Boston and Hyannis carried 13,663 passengers in its fourth season. The service averaged 9.2 percent more riders per round trip compared to 2015, which had one more weekend. Cape Cod Regional Transit Authority Administrator Tom Cahir says social media has contributed to the service's success.
"We've had time now to go out and look at events that occur on Cape Cod and plan well in advance of the event so we can reach out on social media to get people down here without their cars," Cahir said. Cahir credits the service for helping to get cars off the busy Cape roads during the summer. "We're getting 15,000-14,000 people off the roads in the summer as the volume of traffic just continues to escalate here in this region," he said. The train service, which runs from Memorial Day weekend through Labor Day, leaves South Station on Friday nights and makes stops in Braintree, Brockton, Middleboro, Wareham, Buzzards Bay and Hyannis. The CapeFLYER also runs on Saturdays and Sundays, along with holiday Mondays. The service also works closely with ferry operators to provide convenient connections to Nantucket and Martha's Vineyard. CCRTA buses provide transportation from the Buzzards Bay and Hyannis stations to communities across the Cape.
The CapeFLYER started a partnership with the ride sharing service Uber this season which offers discounted rides for train passengers. The train also includes a café car that serves beer and wine, pastries and sandwiches and a bike car which provides tools for riders to work on their bicycles. Cahir said the CapeFLYER is the only train service he knows of where revenues exceed the operating costs.
"We are responsible at the RTA for the operating costs so we make sure we work it really hard and respond to people, get back to people and treat people very courteous on the train," Cahir said. Cahir said he is proud of the success the service has had and is already working to continue that success into the fifth season next summer.
By BRIAN MERCHANT, CapeCod.com NewsCenter